I LO wyróżnione w Rankingu Szkół Kompetencji Przyszłości
Miło nam poinformować, że I Liceum zostało wyróżnione w kolejnym rankingu. W listopadzie 2015 roku "Rzeczpospolita" wspólnie z Social Wolves opublikowała "Ranking Szkół Kompetencji Przyszłości", który powstał na podstawie wyników w pierwszej ogólnopolskiej olimpiadzie "Zwolnieni z Teorii" i który docenia te szkoły, które sprzyjają zaangażowaniu społecznemu oraz rozwojowi kompetencji praktycznych uczniów. Ranking uwzględnia 150 placówek o najlepszych rezultatach spośród 1065 szkół ponadgimnazjalnych, których uczniowie zarejestrowali udział na portalu olimpiady "Zwolnieni z Teorii" w roku szkolnym 2014/2015.
Wśród wyróżnionych nie zabrakło młodzieży I LO w Olkuszu. W ubiegłym roku szkolnym zespół w składzie: Beniamin Wołkiewicz, Michalina Rolka, Katarzyna Nocoń, Martyna Biernacka, Piotr Cygankiewicz opracował, zaprezentował i zrealizował projekt "Wszystko  w Twoich Rękach", udowadniając tym samym, ze potrafi dostrzec i zdefiniować problemy swojego otoczenia, znaleźć sposób jak im zaradzić oraz dzięki wspólnemu wysiłkowi i umiejętności współdziałania, przeprowadzić projekt tak, aby je rozwiązać.
Uczniowie I LO zostali docenieni, a także zaproszeni do udziału w finałowej gali, która odbyła się 23 kwietnia 2015 roku w SOHO Factory w Warszawie i była podsumowaniem realizowanych przez sześć miesięcy przedsięwzięć. Nagrody za najlepsze projekty społeczne wręczali patroni honorowi olimpiady – Prezydent RP Bronisław Komorowski oraz Minister Edukacji Joanna Kluzik-Rostkowska, jak również popierający olimpiadę pracodawcy – Prezes PZU Andrzej Klesyk i Dyrektor Microsoft Marek Kosycarz. Projekt "Wszystko w Twoich Rękach" zdobył nagrodę Social Wolves – wyróżnienie  Brązowy "Wilk" za Najlepszy Projekt Społeczny w miejscowości poniżej 200 tys. mieszkańców.
W "Rankingu Szkół Kompetencji Przyszłości" pod uwagę wzięte zostały dwa kryteria:
(1) Autorzy projektów – liczba uczniów szkoły, którzy ukończyli swój projekt społeczny, tj. zostali Finalistami olimpiady "Zwolnieni z Teorii", odniesiona do liczby uczniów w szkole oraz
(2) Jakość projektów – średnia liczba punktów zespołu z danej szkoły, zdobytych podczas realizacji projektu społecznego w olimpiadzie "Zwolnieni z Teorii". Zespoły zdobywały punkty m.in. za liczbę beneficjentów projektu, ambitne i profesjonalne planowanie, pozyskanie partnerów i finansowania  czy uzyskaną liczbę wzmianek medialnych o inicjatywie. "(…) wszystko to można robić także w szkole. Pod warunkiem że jest to placówka, która chce uczniom nie tylko przekazać wiedzę, ale także wyposażyć ich w kompetencje przydatne w dorosłym życiu"- możemy przeczytać w dzienniku "Rzeczpospolita", który objął patronat nad rankingiem.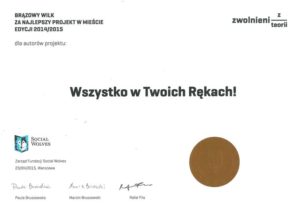 Praktyczne kompetencje to we współczesnym świecie nie tylko gwarancja radzenia sobie na rynku pracy i sukcesu zawodowego, to także szansa na rozwijanie własnych zainteresowań, osobowości i budowanie więzi społecznych. Cieszymy się, że nasi uczniowie są postrzegani jako ci, dla których te wartości są ważne. To, że potrafią wcielać je w życie dziś jest zapowiedzią, że będą to robić także w przyszłości.
Prezes Zarządu Social Wolves gratulując wyróżnienia napisała: "Jeszcze raz gratuluję Państwu wybitnych uczniów oraz przede wszystkim, stworzenia im warunków do rozwoju praktycznych kompetencji." Cała społeczność I Liceum również gratuluje sukcesu uczestnikom olimpiady. Jesteśmy z Was dumni.
Deprecated
: Function create_function() is deprecated in
/home/loolkusz/www/wp-includes/plugin.php
on line
484
Deprecated
: Function create_function() is deprecated in
/home/loolkusz/www/wp-includes/plugin.php
on line
489
Deprecated
: Function create_function() is deprecated in
/home/loolkusz/www/wp-includes/plugin.php
on line
495
Deprecated
: Function create_function() is deprecated in
/home/loolkusz/www/wp-includes/plugin.php
on line
502
Deprecated
: Function create_function() is deprecated in
/home/loolkusz/www/wp-includes/plugin.php
on line
507
Deprecated
: Function create_function() is deprecated in
/home/loolkusz/www/wp-includes/plugin.php
on line
515
Deprecated
: Function create_function() is deprecated in
/home/loolkusz/www/wp-includes/plugin.php
on line
519
Deprecated
: Function create_function() is deprecated in
/home/loolkusz/www/wp-includes/plugin.php
on line
524
Deprecated
: Function create_function() is deprecated in
/home/loolkusz/www/wp-includes/plugin.php
on line
530
Deprecated
: Function create_function() is deprecated in
/home/loolkusz/www/wp-includes/plugin.php
on line
535
Deprecated
: Function create_function() is deprecated in
/home/loolkusz/www/wp-includes/plugin.php
on line
539
Deprecated
: Function create_function() is deprecated in
/home/loolkusz/www/wp-includes/plugin.php
on line
484
Deprecated
: Function create_function() is deprecated in
/home/loolkusz/www/wp-includes/plugin.php
on line
489
Deprecated
: Function create_function() is deprecated in
/home/loolkusz/www/wp-includes/plugin.php
on line
495
Deprecated
: Function create_function() is deprecated in
/home/loolkusz/www/wp-includes/plugin.php
on line
502
Deprecated
: Function create_function() is deprecated in
/home/loolkusz/www/wp-includes/plugin.php
on line
507
Deprecated
: Function create_function() is deprecated in
/home/loolkusz/www/wp-includes/plugin.php
on line
515
Deprecated
: Function create_function() is deprecated in
/home/loolkusz/www/wp-includes/plugin.php
on line
519
Deprecated
: Function create_function() is deprecated in
/home/loolkusz/www/wp-includes/plugin.php
on line
524
Deprecated
: Function create_function() is deprecated in
/home/loolkusz/www/wp-includes/plugin.php
on line
530
Deprecated
: Function create_function() is deprecated in
/home/loolkusz/www/wp-includes/plugin.php
on line
535
Deprecated
: Function create_function() is deprecated in
/home/loolkusz/www/wp-includes/plugin.php
on line
539
Deprecated
: Function create_function() is deprecated in
/home/loolkusz/www/wp-includes/plugin.php
on line
484
Deprecated
: Function create_function() is deprecated in
/home/loolkusz/www/wp-includes/plugin.php
on line
489
Deprecated
: Function create_function() is deprecated in
/home/loolkusz/www/wp-includes/plugin.php
on line
495
Deprecated
: Function create_function() is deprecated in
/home/loolkusz/www/wp-includes/plugin.php
on line
502
Deprecated
: Function create_function() is deprecated in
/home/loolkusz/www/wp-includes/plugin.php
on line
507
Deprecated
: Function create_function() is deprecated in
/home/loolkusz/www/wp-includes/plugin.php
on line
515
Deprecated
: Function create_function() is deprecated in
/home/loolkusz/www/wp-includes/plugin.php
on line
519
Deprecated
: Function create_function() is deprecated in
/home/loolkusz/www/wp-includes/plugin.php
on line
524
Deprecated
: Function create_function() is deprecated in
/home/loolkusz/www/wp-includes/plugin.php
on line
530
Deprecated
: Function create_function() is deprecated in
/home/loolkusz/www/wp-includes/plugin.php
on line
535
Deprecated
: Function create_function() is deprecated in
/home/loolkusz/www/wp-includes/plugin.php
on line
539
Deprecated
: Function create_function() is deprecated in
/home/loolkusz/www/wp-includes/plugin.php
on line
484
Deprecated
: Function create_function() is deprecated in
/home/loolkusz/www/wp-includes/plugin.php
on line
489
Deprecated
: Function create_function() is deprecated in
/home/loolkusz/www/wp-includes/plugin.php
on line
495
Deprecated
: Function create_function() is deprecated in
/home/loolkusz/www/wp-includes/plugin.php
on line
502
Deprecated
: Function create_function() is deprecated in
/home/loolkusz/www/wp-includes/plugin.php
on line
507
Deprecated
: Function create_function() is deprecated in
/home/loolkusz/www/wp-includes/plugin.php
on line
515
Deprecated
: Function create_function() is deprecated in
/home/loolkusz/www/wp-includes/plugin.php
on line
519
Deprecated
: Function create_function() is deprecated in
/home/loolkusz/www/wp-includes/plugin.php
on line
524
Deprecated
: Function create_function() is deprecated in
/home/loolkusz/www/wp-includes/plugin.php
on line
530
Deprecated
: Function create_function() is deprecated in
/home/loolkusz/www/wp-includes/plugin.php
on line
535
Deprecated
: Function create_function() is deprecated in
/home/loolkusz/www/wp-includes/plugin.php
on line
539
Deprecated
: Function create_function() is deprecated in
/home/loolkusz/www/wp-includes/plugin.php
on line
484
Deprecated
: Function create_function() is deprecated in
/home/loolkusz/www/wp-includes/plugin.php
on line
489
Deprecated
: Function create_function() is deprecated in
/home/loolkusz/www/wp-includes/plugin.php
on line
495
Deprecated
: Function create_function() is deprecated in
/home/loolkusz/www/wp-includes/plugin.php
on line
502
Deprecated
: Function create_function() is deprecated in
/home/loolkusz/www/wp-includes/plugin.php
on line
507
Deprecated
: Function create_function() is deprecated in
/home/loolkusz/www/wp-includes/plugin.php
on line
515
Deprecated
: Function create_function() is deprecated in
/home/loolkusz/www/wp-includes/plugin.php
on line
519
Deprecated
: Function create_function() is deprecated in
/home/loolkusz/www/wp-includes/plugin.php
on line
524
Deprecated
: Function create_function() is deprecated in
/home/loolkusz/www/wp-includes/plugin.php
on line
530
Deprecated
: Function create_function() is deprecated in
/home/loolkusz/www/wp-includes/plugin.php
on line
535
Deprecated
: Function create_function() is deprecated in
/home/loolkusz/www/wp-includes/plugin.php
on line
539
Deprecated
: Function create_function() is deprecated in
/home/loolkusz/www/wp-includes/plugin.php
on line
484
Deprecated
: Function create_function() is deprecated in
/home/loolkusz/www/wp-includes/plugin.php
on line
489
Deprecated
: Function create_function() is deprecated in
/home/loolkusz/www/wp-includes/plugin.php
on line
495
Deprecated
: Function create_function() is deprecated in
/home/loolkusz/www/wp-includes/plugin.php
on line
502
Deprecated
: Function create_function() is deprecated in
/home/loolkusz/www/wp-includes/plugin.php
on line
507
Deprecated
: Function create_function() is deprecated in
/home/loolkusz/www/wp-includes/plugin.php
on line
515
Deprecated
: Function create_function() is deprecated in
/home/loolkusz/www/wp-includes/plugin.php
on line
519
Deprecated
: Function create_function() is deprecated in
/home/loolkusz/www/wp-includes/plugin.php
on line
524
Deprecated
: Function create_function() is deprecated in
/home/loolkusz/www/wp-includes/plugin.php
on line
530
Deprecated
: Function create_function() is deprecated in
/home/loolkusz/www/wp-includes/plugin.php
on line
535
Deprecated
: Function create_function() is deprecated in
/home/loolkusz/www/wp-includes/plugin.php
on line
539
Deprecated
: Function create_function() is deprecated in
/home/loolkusz/www/wp-includes/plugin.php
on line
484
Deprecated
: Function create_function() is deprecated in
/home/loolkusz/www/wp-includes/plugin.php
on line
489
Deprecated
: Function create_function() is deprecated in
/home/loolkusz/www/wp-includes/plugin.php
on line
495
Deprecated
: Function create_function() is deprecated in
/home/loolkusz/www/wp-includes/plugin.php
on line
502
Deprecated
: Function create_function() is deprecated in
/home/loolkusz/www/wp-includes/plugin.php
on line
507
Deprecated
: Function create_function() is deprecated in
/home/loolkusz/www/wp-includes/plugin.php
on line
515
Deprecated
: Function create_function() is deprecated in
/home/loolkusz/www/wp-includes/plugin.php
on line
519
Deprecated
: Function create_function() is deprecated in
/home/loolkusz/www/wp-includes/plugin.php
on line
524
Deprecated
: Function create_function() is deprecated in
/home/loolkusz/www/wp-includes/plugin.php
on line
530
Deprecated
: Function create_function() is deprecated in
/home/loolkusz/www/wp-includes/plugin.php
on line
535
Deprecated
: Function create_function() is deprecated in
/home/loolkusz/www/wp-includes/plugin.php
on line
539
Deprecated
: Function create_function() is deprecated in
/home/loolkusz/www/wp-includes/plugin.php
on line
484
Deprecated
: Function create_function() is deprecated in
/home/loolkusz/www/wp-includes/plugin.php
on line
489
Deprecated
: Function create_function() is deprecated in
/home/loolkusz/www/wp-includes/plugin.php
on line
495
Deprecated
: Function create_function() is deprecated in
/home/loolkusz/www/wp-includes/plugin.php
on line
502
Deprecated
: Function create_function() is deprecated in
/home/loolkusz/www/wp-includes/plugin.php
on line
507
Deprecated
: Function create_function() is deprecated in
/home/loolkusz/www/wp-includes/plugin.php
on line
515
Deprecated
: Function create_function() is deprecated in
/home/loolkusz/www/wp-includes/plugin.php
on line
519
Deprecated
: Function create_function() is deprecated in
/home/loolkusz/www/wp-includes/plugin.php
on line
524
Deprecated
: Function create_function() is deprecated in
/home/loolkusz/www/wp-includes/plugin.php
on line
530
Deprecated
: Function create_function() is deprecated in
/home/loolkusz/www/wp-includes/plugin.php
on line
535
Deprecated
: Function create_function() is deprecated in
/home/loolkusz/www/wp-includes/plugin.php
on line
539