16-17 stycznia 2018
Jak powstał Wszechświat? Co było przed Wielkim Wybuchem? Czy na stacji kosmicznej można pić kawę? Na te oraz wiele innych nurtujących pytań odpowiedź uzyskali uczniowie klasy Ia. Już po raz kolejny zawitali w Młodzieżowym Obserwatorium Astronomicznym w Niepołomicach.
Tym razem młodzi fizycy dowiedzieli się dużo o historii naszej galaktyki, poznali tajniki współczesnej kosmologii zaczynając od obserwacji, a kończąc na modelach Wszechświata. Do ich pojemnych mózgów trafiły również nazwiska zasłużonych naukowców. Kto wie, może w przyszłości o uczniach I Liceum Ogólnokształcącego w Olkuszu też będą nauczać? Trzeba przyznać że wiele osób ma do tego potencjał. Zauważyli to też na pewno prowadzący prelekcje w MOA.
Młodzi odkrywcy z Olkusza brali czynny udział w prelekcjach, a potem z uwagą słuchali wykładu w planetarium. Tematem rozważań było wiosenne niebo. Nauka urozmaicona w taki sposób z pewnością przyniesie wiele korzyści. Najlepszy sposób to właśnie łączenie przyjemnego z pożytecznym!
oprac. Magdalena Stanek (1a)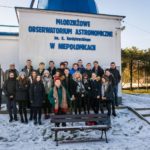 Deprecated
: Function create_function() is deprecated in
/home/loolkusz/www/wp-includes/plugin.php
on line
484
Deprecated
: Function create_function() is deprecated in
/home/loolkusz/www/wp-includes/plugin.php
on line
489
Deprecated
: Function create_function() is deprecated in
/home/loolkusz/www/wp-includes/plugin.php
on line
495
Deprecated
: Function create_function() is deprecated in
/home/loolkusz/www/wp-includes/plugin.php
on line
502
Deprecated
: Function create_function() is deprecated in
/home/loolkusz/www/wp-includes/plugin.php
on line
507
Deprecated
: Function create_function() is deprecated in
/home/loolkusz/www/wp-includes/plugin.php
on line
515
Deprecated
: Function create_function() is deprecated in
/home/loolkusz/www/wp-includes/plugin.php
on line
519
Deprecated
: Function create_function() is deprecated in
/home/loolkusz/www/wp-includes/plugin.php
on line
524
Deprecated
: Function create_function() is deprecated in
/home/loolkusz/www/wp-includes/plugin.php
on line
530
Deprecated
: Function create_function() is deprecated in
/home/loolkusz/www/wp-includes/plugin.php
on line
535
Deprecated
: Function create_function() is deprecated in
/home/loolkusz/www/wp-includes/plugin.php
on line
539
Deprecated
: Function create_function() is deprecated in
/home/loolkusz/www/wp-includes/plugin.php
on line
484
Deprecated
: Function create_function() is deprecated in
/home/loolkusz/www/wp-includes/plugin.php
on line
489
Deprecated
: Function create_function() is deprecated in
/home/loolkusz/www/wp-includes/plugin.php
on line
495
Deprecated
: Function create_function() is deprecated in
/home/loolkusz/www/wp-includes/plugin.php
on line
502
Deprecated
: Function create_function() is deprecated in
/home/loolkusz/www/wp-includes/plugin.php
on line
507
Deprecated
: Function create_function() is deprecated in
/home/loolkusz/www/wp-includes/plugin.php
on line
515
Deprecated
: Function create_function() is deprecated in
/home/loolkusz/www/wp-includes/plugin.php
on line
519
Deprecated
: Function create_function() is deprecated in
/home/loolkusz/www/wp-includes/plugin.php
on line
524
Deprecated
: Function create_function() is deprecated in
/home/loolkusz/www/wp-includes/plugin.php
on line
530
Deprecated
: Function create_function() is deprecated in
/home/loolkusz/www/wp-includes/plugin.php
on line
535
Deprecated
: Function create_function() is deprecated in
/home/loolkusz/www/wp-includes/plugin.php
on line
539
Deprecated
: Function create_function() is deprecated in
/home/loolkusz/www/wp-includes/plugin.php
on line
484
Deprecated
: Function create_function() is deprecated in
/home/loolkusz/www/wp-includes/plugin.php
on line
489
Deprecated
: Function create_function() is deprecated in
/home/loolkusz/www/wp-includes/plugin.php
on line
495
Deprecated
: Function create_function() is deprecated in
/home/loolkusz/www/wp-includes/plugin.php
on line
502
Deprecated
: Function create_function() is deprecated in
/home/loolkusz/www/wp-includes/plugin.php
on line
507
Deprecated
: Function create_function() is deprecated in
/home/loolkusz/www/wp-includes/plugin.php
on line
515
Deprecated
: Function create_function() is deprecated in
/home/loolkusz/www/wp-includes/plugin.php
on line
519
Deprecated
: Function create_function() is deprecated in
/home/loolkusz/www/wp-includes/plugin.php
on line
524
Deprecated
: Function create_function() is deprecated in
/home/loolkusz/www/wp-includes/plugin.php
on line
530
Deprecated
: Function create_function() is deprecated in
/home/loolkusz/www/wp-includes/plugin.php
on line
535
Deprecated
: Function create_function() is deprecated in
/home/loolkusz/www/wp-includes/plugin.php
on line
539
Deprecated
: Function create_function() is deprecated in
/home/loolkusz/www/wp-includes/plugin.php
on line
484
Deprecated
: Function create_function() is deprecated in
/home/loolkusz/www/wp-includes/plugin.php
on line
489
Deprecated
: Function create_function() is deprecated in
/home/loolkusz/www/wp-includes/plugin.php
on line
495
Deprecated
: Function create_function() is deprecated in
/home/loolkusz/www/wp-includes/plugin.php
on line
502
Deprecated
: Function create_function() is deprecated in
/home/loolkusz/www/wp-includes/plugin.php
on line
507
Deprecated
: Function create_function() is deprecated in
/home/loolkusz/www/wp-includes/plugin.php
on line
515
Deprecated
: Function create_function() is deprecated in
/home/loolkusz/www/wp-includes/plugin.php
on line
519
Deprecated
: Function create_function() is deprecated in
/home/loolkusz/www/wp-includes/plugin.php
on line
524
Deprecated
: Function create_function() is deprecated in
/home/loolkusz/www/wp-includes/plugin.php
on line
530
Deprecated
: Function create_function() is deprecated in
/home/loolkusz/www/wp-includes/plugin.php
on line
535
Deprecated
: Function create_function() is deprecated in
/home/loolkusz/www/wp-includes/plugin.php
on line
539
Deprecated
: Function create_function() is deprecated in
/home/loolkusz/www/wp-includes/plugin.php
on line
484
Deprecated
: Function create_function() is deprecated in
/home/loolkusz/www/wp-includes/plugin.php
on line
489
Deprecated
: Function create_function() is deprecated in
/home/loolkusz/www/wp-includes/plugin.php
on line
495
Deprecated
: Function create_function() is deprecated in
/home/loolkusz/www/wp-includes/plugin.php
on line
502
Deprecated
: Function create_function() is deprecated in
/home/loolkusz/www/wp-includes/plugin.php
on line
507
Deprecated
: Function create_function() is deprecated in
/home/loolkusz/www/wp-includes/plugin.php
on line
515
Deprecated
: Function create_function() is deprecated in
/home/loolkusz/www/wp-includes/plugin.php
on line
519
Deprecated
: Function create_function() is deprecated in
/home/loolkusz/www/wp-includes/plugin.php
on line
524
Deprecated
: Function create_function() is deprecated in
/home/loolkusz/www/wp-includes/plugin.php
on line
530
Deprecated
: Function create_function() is deprecated in
/home/loolkusz/www/wp-includes/plugin.php
on line
535
Deprecated
: Function create_function() is deprecated in
/home/loolkusz/www/wp-includes/plugin.php
on line
539
Deprecated
: Function create_function() is deprecated in
/home/loolkusz/www/wp-includes/plugin.php
on line
484
Deprecated
: Function create_function() is deprecated in
/home/loolkusz/www/wp-includes/plugin.php
on line
489
Deprecated
: Function create_function() is deprecated in
/home/loolkusz/www/wp-includes/plugin.php
on line
495
Deprecated
: Function create_function() is deprecated in
/home/loolkusz/www/wp-includes/plugin.php
on line
502
Deprecated
: Function create_function() is deprecated in
/home/loolkusz/www/wp-includes/plugin.php
on line
507
Deprecated
: Function create_function() is deprecated in
/home/loolkusz/www/wp-includes/plugin.php
on line
515
Deprecated
: Function create_function() is deprecated in
/home/loolkusz/www/wp-includes/plugin.php
on line
519
Deprecated
: Function create_function() is deprecated in
/home/loolkusz/www/wp-includes/plugin.php
on line
524
Deprecated
: Function create_function() is deprecated in
/home/loolkusz/www/wp-includes/plugin.php
on line
530
Deprecated
: Function create_function() is deprecated in
/home/loolkusz/www/wp-includes/plugin.php
on line
535
Deprecated
: Function create_function() is deprecated in
/home/loolkusz/www/wp-includes/plugin.php
on line
539
Deprecated
: Function create_function() is deprecated in
/home/loolkusz/www/wp-includes/plugin.php
on line
484
Deprecated
: Function create_function() is deprecated in
/home/loolkusz/www/wp-includes/plugin.php
on line
489
Deprecated
: Function create_function() is deprecated in
/home/loolkusz/www/wp-includes/plugin.php
on line
495
Deprecated
: Function create_function() is deprecated in
/home/loolkusz/www/wp-includes/plugin.php
on line
502
Deprecated
: Function create_function() is deprecated in
/home/loolkusz/www/wp-includes/plugin.php
on line
507
Deprecated
: Function create_function() is deprecated in
/home/loolkusz/www/wp-includes/plugin.php
on line
515
Deprecated
: Function create_function() is deprecated in
/home/loolkusz/www/wp-includes/plugin.php
on line
519
Deprecated
: Function create_function() is deprecated in
/home/loolkusz/www/wp-includes/plugin.php
on line
524
Deprecated
: Function create_function() is deprecated in
/home/loolkusz/www/wp-includes/plugin.php
on line
530
Deprecated
: Function create_function() is deprecated in
/home/loolkusz/www/wp-includes/plugin.php
on line
535
Deprecated
: Function create_function() is deprecated in
/home/loolkusz/www/wp-includes/plugin.php
on line
539