I LO w Olkuszu – laureat ogólnopolskiego konkursu na projekt edukacyjny!
Miło nam poinformować, że decyzją Internautów głosujących na projekty konkursowe na stronie www.projektzklasa.pl, nasza szkoła otrzymała grant w wysokości 2000 zł. Nagroda zostanie przeznaczona na dofinansowanie realizacji projektu edukacyjnego "Przygoda w Słowackim Raju". Uczniowie Naszego Liceum, będą uczestniczyć w projekcie edukacyjnym zorganizowanym na Słowacji i w Zakopanym podczas którego reprezentacje wszystkich klas szkoły będą rywalizować wykonując różne zadania rozwijające wiedzę i umiejętności oraz odbędą kurs tańca towarzyskiego prowadzony przez zawodowego wodzireja.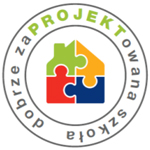 Organizatorem konkursu na projekty edukacyjne było Wydawnictwo Nowa Era z Warszawy. Konkurs był oceniany w dwóch kategoriach: kapituła konkursu przyznała 10 grantów po 2000 zł i internauci przyznali również 10 grantów po 2000 zł każdy. W sumie zgłoszono 659 projektów do konkursu.
Dziękujemy wszystkim uczniom, rodzicom i sympatykom naszej szkoły za głosy oddane na Nasz projekt. Mamy nadzieję, że w następnej edycji będziecie również z Nami.
Gratulujemy już po raz trzeci, bo to sukces całej społeczności I LO i przyjaciół szkoły.
---
Podsumowanie projektu edukacyjnego – Przygoda w Słowackim Raju
W ramach realizacji V edycji "Projektu z klasą" uczniowie naszej szkoły wyruszyli w poniedziałek 8 czerwca 2015 roku do Słowackiego Raju w miejscowości Podlesok na Słowacji.
Przewodnik górski przybliżył uczestnikom wyprawy budowę geologiczna Tatr oraz środowisko geograficzne okolic Słowackiego Raju po czym grupa wyruszyła na trasę górską nazywaną "Suhą Belą", idąc wąwozem w górę rzeki i podziwiając przepiękne widoki i ukształtowanie terenu. Wyprawa wymagała sprawności fizycznej, gdyż trasa prowadziła przez liczne drabiny, mostki i kładki a przewodnik starał się opowiadać o napotkanych atrakcjach przyrodniczych. Uczestnicy projektu usłyszeli wiele pytań i odpowiedzi związanych z górskimi , szlakami i zachowaniem w górach. Trasa była męcząca ale równocześnie na tyle ciekawa, że wszyscy jednogłośnie stwierdzili, że chcieliby wrócić jeszcze raz do słowackiego Raju i zrealizować druga alternatywną trasę "Przełom Hornadu". Kto wie czy za rok nie wyruszymy ponownie…
Wieczorem, po przybyciu do pensjonatu i pysznym obiedzie, zawodowy wodzirej Zdzisław Salis z Krościenka poprowadził zajęcia taneczne pokazując liczne zabawy zespołowe i tańce towarzyskie. Czas minął tak szybko, że żal było kończyć to spotkanie.
Następnego dnia, po śniadaniu, cała grupa udała się na długi spacer wzdłuż szczytów Butorowy Wierch i Gubałówka. W godzinach popołudniowych zespół realizujący projekt udał się w drogę powrotną do Olkusza.
Realizacja projektu edukacyjnego to nie tylko aspekty naukowe, ale przede wszystkim integracyjne, propagowanie aktywnego wypoczynku i niezapomniane chwile do których wszyscy chętnie będą wracać a pozostała społeczność szkoły czeka z niecierpliwością na kolejną edycję Ogólnopolskiego Konkursu na Projekt Edukacyjny – Projekt z Klasą, gdyż metoda projektów na stale zagościła w I Liceum Ogólnokształcącym w Olkuszu.
Nauczyciele I LO czekają nanowe pomysły uczniów, a w szczególności liczymy na gimnazjalistów, którzy chcą rozwijać swoje zainteresowania i pasje w najlepszej szkole w powiecie olkuskim.
Deprecated
: Function create_function() is deprecated in
/home/loolkusz/www/wp-includes/plugin.php
on line
484
Deprecated
: Function create_function() is deprecated in
/home/loolkusz/www/wp-includes/plugin.php
on line
489
Deprecated
: Function create_function() is deprecated in
/home/loolkusz/www/wp-includes/plugin.php
on line
495
Deprecated
: Function create_function() is deprecated in
/home/loolkusz/www/wp-includes/plugin.php
on line
502
Deprecated
: Function create_function() is deprecated in
/home/loolkusz/www/wp-includes/plugin.php
on line
507
Deprecated
: Function create_function() is deprecated in
/home/loolkusz/www/wp-includes/plugin.php
on line
515
Deprecated
: Function create_function() is deprecated in
/home/loolkusz/www/wp-includes/plugin.php
on line
519
Deprecated
: Function create_function() is deprecated in
/home/loolkusz/www/wp-includes/plugin.php
on line
524
Deprecated
: Function create_function() is deprecated in
/home/loolkusz/www/wp-includes/plugin.php
on line
530
Deprecated
: Function create_function() is deprecated in
/home/loolkusz/www/wp-includes/plugin.php
on line
535
Deprecated
: Function create_function() is deprecated in
/home/loolkusz/www/wp-includes/plugin.php
on line
539
Deprecated
: Function create_function() is deprecated in
/home/loolkusz/www/wp-includes/plugin.php
on line
484
Deprecated
: Function create_function() is deprecated in
/home/loolkusz/www/wp-includes/plugin.php
on line
489
Deprecated
: Function create_function() is deprecated in
/home/loolkusz/www/wp-includes/plugin.php
on line
495
Deprecated
: Function create_function() is deprecated in
/home/loolkusz/www/wp-includes/plugin.php
on line
502
Deprecated
: Function create_function() is deprecated in
/home/loolkusz/www/wp-includes/plugin.php
on line
507
Deprecated
: Function create_function() is deprecated in
/home/loolkusz/www/wp-includes/plugin.php
on line
515
Deprecated
: Function create_function() is deprecated in
/home/loolkusz/www/wp-includes/plugin.php
on line
519
Deprecated
: Function create_function() is deprecated in
/home/loolkusz/www/wp-includes/plugin.php
on line
524
Deprecated
: Function create_function() is deprecated in
/home/loolkusz/www/wp-includes/plugin.php
on line
530
Deprecated
: Function create_function() is deprecated in
/home/loolkusz/www/wp-includes/plugin.php
on line
535
Deprecated
: Function create_function() is deprecated in
/home/loolkusz/www/wp-includes/plugin.php
on line
539
Deprecated
: Function create_function() is deprecated in
/home/loolkusz/www/wp-includes/plugin.php
on line
484
Deprecated
: Function create_function() is deprecated in
/home/loolkusz/www/wp-includes/plugin.php
on line
489
Deprecated
: Function create_function() is deprecated in
/home/loolkusz/www/wp-includes/plugin.php
on line
495
Deprecated
: Function create_function() is deprecated in
/home/loolkusz/www/wp-includes/plugin.php
on line
502
Deprecated
: Function create_function() is deprecated in
/home/loolkusz/www/wp-includes/plugin.php
on line
507
Deprecated
: Function create_function() is deprecated in
/home/loolkusz/www/wp-includes/plugin.php
on line
515
Deprecated
: Function create_function() is deprecated in
/home/loolkusz/www/wp-includes/plugin.php
on line
519
Deprecated
: Function create_function() is deprecated in
/home/loolkusz/www/wp-includes/plugin.php
on line
524
Deprecated
: Function create_function() is deprecated in
/home/loolkusz/www/wp-includes/plugin.php
on line
530
Deprecated
: Function create_function() is deprecated in
/home/loolkusz/www/wp-includes/plugin.php
on line
535
Deprecated
: Function create_function() is deprecated in
/home/loolkusz/www/wp-includes/plugin.php
on line
539
Deprecated
: Function create_function() is deprecated in
/home/loolkusz/www/wp-includes/plugin.php
on line
484
Deprecated
: Function create_function() is deprecated in
/home/loolkusz/www/wp-includes/plugin.php
on line
489
Deprecated
: Function create_function() is deprecated in
/home/loolkusz/www/wp-includes/plugin.php
on line
495
Deprecated
: Function create_function() is deprecated in
/home/loolkusz/www/wp-includes/plugin.php
on line
502
Deprecated
: Function create_function() is deprecated in
/home/loolkusz/www/wp-includes/plugin.php
on line
507
Deprecated
: Function create_function() is deprecated in
/home/loolkusz/www/wp-includes/plugin.php
on line
515
Deprecated
: Function create_function() is deprecated in
/home/loolkusz/www/wp-includes/plugin.php
on line
519
Deprecated
: Function create_function() is deprecated in
/home/loolkusz/www/wp-includes/plugin.php
on line
524
Deprecated
: Function create_function() is deprecated in
/home/loolkusz/www/wp-includes/plugin.php
on line
530
Deprecated
: Function create_function() is deprecated in
/home/loolkusz/www/wp-includes/plugin.php
on line
535
Deprecated
: Function create_function() is deprecated in
/home/loolkusz/www/wp-includes/plugin.php
on line
539
Deprecated
: Function create_function() is deprecated in
/home/loolkusz/www/wp-includes/plugin.php
on line
484
Deprecated
: Function create_function() is deprecated in
/home/loolkusz/www/wp-includes/plugin.php
on line
489
Deprecated
: Function create_function() is deprecated in
/home/loolkusz/www/wp-includes/plugin.php
on line
495
Deprecated
: Function create_function() is deprecated in
/home/loolkusz/www/wp-includes/plugin.php
on line
502
Deprecated
: Function create_function() is deprecated in
/home/loolkusz/www/wp-includes/plugin.php
on line
507
Deprecated
: Function create_function() is deprecated in
/home/loolkusz/www/wp-includes/plugin.php
on line
515
Deprecated
: Function create_function() is deprecated in
/home/loolkusz/www/wp-includes/plugin.php
on line
519
Deprecated
: Function create_function() is deprecated in
/home/loolkusz/www/wp-includes/plugin.php
on line
524
Deprecated
: Function create_function() is deprecated in
/home/loolkusz/www/wp-includes/plugin.php
on line
530
Deprecated
: Function create_function() is deprecated in
/home/loolkusz/www/wp-includes/plugin.php
on line
535
Deprecated
: Function create_function() is deprecated in
/home/loolkusz/www/wp-includes/plugin.php
on line
539
Deprecated
: Function create_function() is deprecated in
/home/loolkusz/www/wp-includes/plugin.php
on line
484
Deprecated
: Function create_function() is deprecated in
/home/loolkusz/www/wp-includes/plugin.php
on line
489
Deprecated
: Function create_function() is deprecated in
/home/loolkusz/www/wp-includes/plugin.php
on line
495
Deprecated
: Function create_function() is deprecated in
/home/loolkusz/www/wp-includes/plugin.php
on line
502
Deprecated
: Function create_function() is deprecated in
/home/loolkusz/www/wp-includes/plugin.php
on line
507
Deprecated
: Function create_function() is deprecated in
/home/loolkusz/www/wp-includes/plugin.php
on line
515
Deprecated
: Function create_function() is deprecated in
/home/loolkusz/www/wp-includes/plugin.php
on line
519
Deprecated
: Function create_function() is deprecated in
/home/loolkusz/www/wp-includes/plugin.php
on line
524
Deprecated
: Function create_function() is deprecated in
/home/loolkusz/www/wp-includes/plugin.php
on line
530
Deprecated
: Function create_function() is deprecated in
/home/loolkusz/www/wp-includes/plugin.php
on line
535
Deprecated
: Function create_function() is deprecated in
/home/loolkusz/www/wp-includes/plugin.php
on line
539
Deprecated
: Function create_function() is deprecated in
/home/loolkusz/www/wp-includes/plugin.php
on line
484
Deprecated
: Function create_function() is deprecated in
/home/loolkusz/www/wp-includes/plugin.php
on line
489
Deprecated
: Function create_function() is deprecated in
/home/loolkusz/www/wp-includes/plugin.php
on line
495
Deprecated
: Function create_function() is deprecated in
/home/loolkusz/www/wp-includes/plugin.php
on line
502
Deprecated
: Function create_function() is deprecated in
/home/loolkusz/www/wp-includes/plugin.php
on line
507
Deprecated
: Function create_function() is deprecated in
/home/loolkusz/www/wp-includes/plugin.php
on line
515
Deprecated
: Function create_function() is deprecated in
/home/loolkusz/www/wp-includes/plugin.php
on line
519
Deprecated
: Function create_function() is deprecated in
/home/loolkusz/www/wp-includes/plugin.php
on line
524
Deprecated
: Function create_function() is deprecated in
/home/loolkusz/www/wp-includes/plugin.php
on line
530
Deprecated
: Function create_function() is deprecated in
/home/loolkusz/www/wp-includes/plugin.php
on line
535
Deprecated
: Function create_function() is deprecated in
/home/loolkusz/www/wp-includes/plugin.php
on line
539
Deprecated
: Function create_function() is deprecated in
/home/loolkusz/www/wp-includes/plugin.php
on line
484
Deprecated
: Function create_function() is deprecated in
/home/loolkusz/www/wp-includes/plugin.php
on line
489
Deprecated
: Function create_function() is deprecated in
/home/loolkusz/www/wp-includes/plugin.php
on line
495
Deprecated
: Function create_function() is deprecated in
/home/loolkusz/www/wp-includes/plugin.php
on line
502
Deprecated
: Function create_function() is deprecated in
/home/loolkusz/www/wp-includes/plugin.php
on line
507
Deprecated
: Function create_function() is deprecated in
/home/loolkusz/www/wp-includes/plugin.php
on line
515
Deprecated
: Function create_function() is deprecated in
/home/loolkusz/www/wp-includes/plugin.php
on line
519
Deprecated
: Function create_function() is deprecated in
/home/loolkusz/www/wp-includes/plugin.php
on line
524
Deprecated
: Function create_function() is deprecated in
/home/loolkusz/www/wp-includes/plugin.php
on line
530
Deprecated
: Function create_function() is deprecated in
/home/loolkusz/www/wp-includes/plugin.php
on line
535
Deprecated
: Function create_function() is deprecated in
/home/loolkusz/www/wp-includes/plugin.php
on line
539
Deprecated
: Function create_function() is deprecated in
/home/loolkusz/www/wp-includes/plugin.php
on line
484
Deprecated
: Function create_function() is deprecated in
/home/loolkusz/www/wp-includes/plugin.php
on line
489
Deprecated
: Function create_function() is deprecated in
/home/loolkusz/www/wp-includes/plugin.php
on line
495
Deprecated
: Function create_function() is deprecated in
/home/loolkusz/www/wp-includes/plugin.php
on line
502
Deprecated
: Function create_function() is deprecated in
/home/loolkusz/www/wp-includes/plugin.php
on line
507
Deprecated
: Function create_function() is deprecated in
/home/loolkusz/www/wp-includes/plugin.php
on line
515
Deprecated
: Function create_function() is deprecated in
/home/loolkusz/www/wp-includes/plugin.php
on line
519
Deprecated
: Function create_function() is deprecated in
/home/loolkusz/www/wp-includes/plugin.php
on line
524
Deprecated
: Function create_function() is deprecated in
/home/loolkusz/www/wp-includes/plugin.php
on line
530
Deprecated
: Function create_function() is deprecated in
/home/loolkusz/www/wp-includes/plugin.php
on line
535
Deprecated
: Function create_function() is deprecated in
/home/loolkusz/www/wp-includes/plugin.php
on line
539